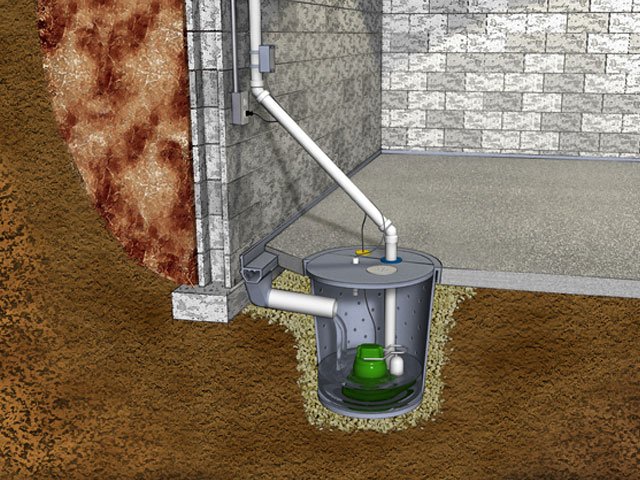 A sump pump is something that many people have who are concerned about flooding in their basement or even on the lower level of the home. In many areas of the country it is virtually essential to have a sump pump in the basement because there is a tendency for it to flood. However, it is vitally important that sump pump insulation be performed by a knowledgeable and reliable plumber that has the experience that is necessary to do it successfully. Obviously, if you have a sump pump installed in your basement it is because you want to protect your home and its contents. Therefore, the last thing that you want to have happen is for the sump pump to fail when it is needed the most.
There are many different sizes of sump pumps and the style and size of pump that you need will be determined largely by the size of your basement as well as your own individual needs. Some homes even feature a secondary sump pump in case the first one fails or is overwhelmed by the amount of water that is coming into the basement. Furthermore, it is important to consider whether you want to have the sump pumps operated off of the main electricity coming into the house or if you want to have at least one pump that is operated via a generator. All of these decisions should be made before a pump is installed because they will affect the installation process. However, you would be well advised to have someone who has a great deal of experience with installing sump pumps take care of it for you as opposed to trying to do it yourself.
When you have sump pump installation done professionally, you can have the peace of mind of knowing that it will operate properly when you need it. Sump pumps are a relatively significant purchase and therefore it is vitally important that you do everything possible to ensure that they operate as they were designed to perform when the water starts coming into your basement. Otherwise, you run the risk of having your possessions that are stored there ruined as well as much of the basement itself.
In addition, a professional plumber may be able to offer you some advice and provide you with additional options concerning your sump pump installation that you had not thought of previously. This may help you find a sump pump that is able to handle the job more efficiently and the installation that is provided may provide you with a more reliable setup. Therefore, it is important that you discuss all of your options at length with your plumber before any installation actually occurs. Fully understanding your options will help you make the best possible choice and will also help you feel more certain about the ability of the sump pump to do its job correctly. In the long term, it can save you a lot of money and, as it can dramatically reduce the cost that is associated with repairing the damage to the basement and replacing your belongings.