Home Plumbing Installation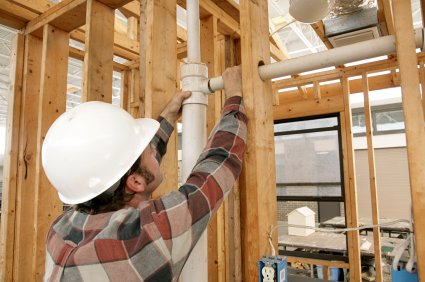 When upgrading a home, most owners immediately begin with the plumbing. For obvious reasons, new plumbing is necessary in a newly constructed home. This is a good time for the plumbing fittings to be installed under and around the home since they will be new, without question. Planning for new construction is not the only time the homeowner may want to consider new fittings. Many older homes have plumbing that has been extended beyond its capacity to perform well. The need for new home plumbing installation, then becomes imminent.
Popular items to install beyond the piping include: faucets, toilets, sinks and water heaters. Homeowners should make a list of the things they wish their home plumbing installation to include. Listing and researching gives them an idea of what to bring up during the consultation with a plumbing contractor. The contractor will also be able to make recommendations based on the homeowners' desires and the finances they have budgeted for the project.
Licensed contractors also offer assurances they will comply with state plumbing installation regulations. Failure to hire a certified plumber puts the homeowner at risk for damage to their property and possible exposure to health issues from improperly installed fixtures. For this reason, it is always wise to hire a professional plumber to do the home plumbing installation. Plumbers that are state-licensed and bonded ensure that the homeowner will hire a service professional that knows what they are doing.
Licensed plumbers also know the correct materials to purchase. This is beneficial if the homeowner remains uncertain about the best metals needed for the job. They don't have to worry whether they should buy copper, steel or brass-bodied fittings. Each might be right for the job, but the plumber will be able to determine the best choice. Professionals can also vouch for the quality of the materials.
Before starting a home plumbing installation job, the contractor will also inspect the fittings underneath and around the home to make sure there are no undetected leaks or breaks in the piping system. The fittings must be replaced or repaired before further advancement can occur. Quality fittings guarantee proper water flow throughout the home and drainage system. Failure to inspect the fittings puts added risk of cracked walls and foundation.
Homeowners often re-outfit their bathrooms and kitchens to give them a modern look and appeal to potential buyers. Home buyers always ask the age of the fixtures, as well as other incidentals when considering the purchase of a new dwelling.
New home plumbing installation can increase the value of a home. Therefore, homeowners should always buy the best fixtures they can afford. Doing so will practically guarantee a return on their investment. Even when homeowners are not considering selling their property, it is better to buy better materials that offer longevity.
Finally, to ensure they are receiving quality workmanship, the homeowner should ask the contractor for references. Contractors who are confident about their work will not hesitate to honor the homeowners' request. Another good way to find a reputable plumbing contracting for the home plumbing installationjob is to ask relatives and friends who recently hired a plumber to do similar work. Homeowners should enjoy a quality-plumbing installation for many years. It is an investment that will pay back in the long run, once it is completed properly.