How to deal with drain cleaning in Granada Hills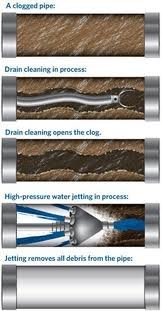 It is not unusual to have problems. It is how we choose to solve these problems that matter. A lot of effort and work is put into solving problems to ensure they do not escalate or cause other problems. However, some of these problems may be too complicated to 'do it ourselves'. Other may require expert training to identify the real problem and fix it. In some instances, the necessary equipment required to solve a problem may not be within reach or may be too costly to afford as an individual. One such problem is drainage clogging.
Clogged up drains is a common phenomenon in plumbing systems. Particles and other debris can be stuck in pipes making the plumbing system inefficient in its functions. This may cause various problems such emission of foul smells and slow drainage of waste water. If not attended to, these clogs could collapse the entire plumbing system. As such, the services of an expert plumber with the technical knowhow of plumbing systems are essential. We offer our expert services in drain cleaning Granada Hills. We clear plumbing systems of any clogs and leave your pipes as 'effective' as new.
Before drain cleaning Granada Hills plumbing systems, it is important to know the affected system and the cause of the clog. Some of the affected systems and the clog causing agents may include:
Kitchen drain clog ups are mainly as a result of food particles, oils and fats and pieces of soap being stuck in kitchen sink pipes. This mainly occurs during the washing process.
Debris on the rooftop as rainwater on to the gutter and down to the collection area causes the spout to clog. This debris includes soil particles, leaves and dead insects.
Bathroom drains are often blocked by hair and soap.
In addition to the occasional hair and soap deposition, sinks are clogged up with toothpaste and grime. This scenario is especially common for washroom sinks.
Toilet drains are no different. They may be blocked by soap, excessive toilet paper, baby wise and even the rare dipper in the toilet.
Floor drains are mainly set on the ground in places such as basements and garages. Such drains may be blocked with soil particles, leaves, soap and other debris.
A faulty installation of a plumbing system or a damaged pipe may also cause a clog.
Some of the benefits of using professional plumbers in drain cleaning Granada Hills include:
Time saving
The professional easily traces the clog and quickly and effectively clears it.
Saves money
A professional effectively clears the clog thus avoiding frequent clogging. This reduces the money spent on constant unclogging of plumbing systems.
Advice on avoiding future clogs is given
In drain cleaning Granada Hills, we assure our clients of swift effective services. We detect the clog, identify the cause, and clean up the drainage system. Our services are effective and of high quality. We use only the highest quality of products in drain cleaning Granada Hills. We also offer frequent drain maintenance to those seeking to avoid clogged pipes. We offer frequent drain cleaning services to keep your plumbing system clean and clog free.